---
June 2013 Newsletter
News from Freenet Antennas
---
| | |
| --- | --- |
| | AirFiber ... Exceeds Expectations |
The Ubiquiti AirFiber product is fast - 1400Mbps - but due to ACMA regulations, we are not allowed to get the 13+ km range advertised in USA. Based on calculations using the published specifications from Ubiquiti, the practical range in Australia (including a typical rain-fade margin) is about 3km.
Recently we have received customer feedback that shows the AirFiber is exceeding expectations. One customer even got a 6 km link. Here is some more information.
Calculated (Theoretical) Distance limits in Australia
These distance limits are calculated from the Ubiquiti AirFiber Datasheet, and the legal EIRP limits set by the ACMA.
Max. Data Rate
(Mbps)
Max. Distance (km)
No Rain
6mm/hr
12mm/hr
1500
1.6
1.4
1.2
1000
3.1
2.4
1.9
500
6.2
3.9
3.0
250
7.8
4.6
3.4
62.5
17.5
7.4
5.2
---
Reported Real World Links
The table below lists some real world results reported by customers. In each case we have verified that the links were not operating beyond the Australian 20 dBm EIRP limit. As you can see, performance has exceeded expectations. This can be explained by the receiver system (Antenna gain and/or sensitivity) being better than official specifications.
Distance (km)
Speed (Mbps)
Rain?
Location
2.8
1500
No
Victoria
6
1000
No
Victoria
Email us your results!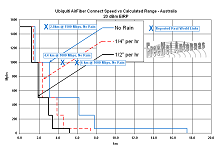 Click image to enlarge
Notes and Assumptions
Operating at 24.2 GHz
Max Data Rate is the FDD rate. Full duplex, aggregate of traffic in both directions
ACMA EIRP limit at 24 GHz is 100mW (20 dBm)
Calculations done with rain fade values of:

No Rain
1dB/km rain fade (= 6 mm/hr) (= 1/4" per hr)
2dB/km rain fade (= 12 mm/hr) (= 1/2" per hr)
---
More Information
| | |
| --- | --- |
| Click image to enlarge | This image is of the 2.7km link in very heavy rain. Note the signal dropped but not enought to loose connectivity |
| | This image shows the AirMAX screen for the 6km link. |
---
Upcoming Products
The products below have been announced. We will keep you updated via this newsletter as we learn more.

Click image to enlarge

TOUGHSwitch - POE Switches

Ubiquiti has announced their range of POE switches.




NanoBridge-M2

This is physically identical to the 5GHz/25 dBi NanoBridge, but operates in the 2.4 GHz band.




NanoBridge-M3

This 3 GHz band product is due in stock at the end of June. It has been fully tested for C-Tick compliance. If you have a need for a 'clean' (licensed) link, you should consider a 3 GHz solution.

This is not the same as the NanoBridgeM365 as sold in USA.

NanoBridgeM365

3650 to 3675 MHz only
Not certified for use in Australia

NanoBridgeM3

3300 to 3700 MHz capable
Fully C-Ticked by Freenet Warehouse for use in Australia
Compliant with ACMA RALI FX14

3 GHz Licensing in Australia

See ACMA RALI FX3 More...

---
New Products
These products are now in stock.

Click image to enlarge

POE 14 to 24V DC/DC Converter

Applications

While the nominal input voltage is 14 VDC, the actual supply can be between 9 and 36 VDC. With a fixed output of 24 VDC, this unit is ideal for powering Ubiquiti devices which accept 12 to 24 VDC POE.

Solar/Wind Power. Connect this device direct to the 12V or 24V batteries.
Marine/Automotive. Most marine/automotive applications use nominal 12 VDC (14 VDC charging), or 24 VDC (28 VDC charging) systems. This unit is compatible with both.


Click image to enlarge

EdgeRouter-Lite

This is the first product announced in the EdgeMAX Router series. Ubiquiti has given us a ship date that means we should have these in stock by the end of April.

The world's lowest price, one million packet-per-second router. Powered by the feature rich EdgeOS featuring a next-generation graphical user interface.

What makes the EdgeRouter Different?

It is a software-definable (configurable) router, running Debian/Linux. While the kernel already has a lot of features built-in, you can add features using the apt-get mechanism to download and install free packages.

---

Outstanding Performance and Value


Click image to enlarge

See these reports:

Features

Performance

(Layer-3 base forwarding) 1,000,000 pps for 64-byte packets. Line rate (3 Gbps) across all three ports for 512-byte packets and higher

CPU

Dual-core MIPS64 processor with hardware acceleration for packet processing and encryption/decryption

Ethernet

3 RJ-45 Gigabit Ethernet ports

Memory

512 MB DDR2 RAM

Storage

2 GB

Console

1 RJ-45 serial console port

OS

EdgeOS (A custom Debian distro).
Expandable with apt-get if needed.

The following new products are in stock now.

1U Universal Rack System

Holds any two of the following:

Tough Switch Pro (8 port)

1U Rack System - ToughSwitch-8-Pro

Holds any two of the following:

Tough Switch Pro (8 port)

Wall Mount for TS-Pro

The Tough Switch Wall Mount will hold one Ubiquiti Tough Switches Pro 8 port.

Exterior Ethernet Cable Anchor

Exterior Ethernet Cable Clip


Cluster Mount - 6 Gang



Click image to enlarge

Mid-Gain 5GHz Titanium Sector Antenna

Ubiquiti has a smaller cousin to the variable-gain/variable-beam-width 5GHz Sector Antenna.

| | | | | |
| --- | --- | --- | --- | --- |
| Antenna | Gain(dBi) | Beamwidth (Deg) | Height (cm) | Price |
| AM-V5G-Ti | 19 to 21 | 60 to 120 | 721 | $354 |
| AM-M-V5G-Ti | 15 to 17 | 60 to 120 | 385 | $246 |
---
Ubiquiti Training - airMAX


Upcoming scheduled courses:
---
Tell us of Your Success
| | |
| --- | --- |
| | Do you have a WiFi success story you would like to share with other Freenet Antennas customers? If so email us the details and we might publish in our next newsletter. |
---
Recommended Firmware

Each month we will update this table.
---