---
Aug 2010 Newsletter
News from Freenet Antennas
---
Wholesale Customers ...
If you buy direct from Rob Clark (Warehouse) in Perth, please note that Rob is away from 26-Aug to 16-Oct. If you need any gear before mid-October, you have these choices:
Get it now direct from Rob, or
Buy from the online store. The Freenet Antennas agents will still be open and supplying all states in Australia over this time.
---
Ubiquiti Webinar

A Web Seminar
A Webinar was recently held in USA by Ubiquiti and one of their USA Master Distributors.

The total length is about 45 minutes, and is available in 6 parts from YouTube.

Topics discussed include current and future products, and tech hints.

If you have any questions on anything in the Webinar, please contact Freenet Antennas.
Part 1

Intro

What is AirMax?

AirMax Products

Part 4

Setup Best Practices (cont.)

Product Comparison

Q & A

Part 2

AirMax products (cont.)

AirControl (Network Management)

Antennas - Directional

Part 5
Q & A (cont.)
Part 3

Antennas - Base Station

AirView - Spectrum Analysis

Setup Best Practices

Part 6

Q & A (cont.)
---
New Products
We have continued to add to our range of products. New products this month are below.
Product

Description

Technology:
Wireless-A/N

The NanoBridgeM5 is a small (330 mm) unit with a built-in 22 dBi antenna. It is ideal for long distance Point-to-Point links. It uses Wireless-N technology to get duplex TCP/IP speeds up to 150 Mbps.

Note: Now in stock


Technology:
Wireless-A/B/G/N

This small whip antenna is a dual band unit with these specs:

2.4GHz: 3 dBi
5 GHz: 5 dBi

To provide extra protection for Ubiquiti Rockets when mounted on Ubiquiti sector antennas, we now have the fully metal RocketShield in stock. These have been manufactured to Freenet Antennas specs.

They provide extra protection for the Rocket and the external RF pigtails against:

Direct sunlight
Direct rainfall
Birds (Who seem to like cables!)
RF Interference from other WiFi radios/antennas mounted on the same tower (e.g other Rockets)

It complements our existing metal-foil lined uPVC version.

We recommend using a RocketShield for all sector antenna installations.
---
Ubiquiti 900 MHz and 3 GHz Equipment
As we were writing this monthly newsletter, Ubiquiti announced their new 900 MHz and 3 GHz range.
While both look attractive product ranges, Freenet Antennas does not plan to keep either range in stock at this time. Our reasons are below. Naturally - should a licensed carrier ask us to import equipment in either band, and it can be C-Ticked, we would be happy to do so on a case-by-case basis.
---
3 GHz: While the ACMA permits operation within this band, it is not covered by a Class License. That is each operation must be licensed - usually by a carrier.
---
900 MHz: The attraction of this band is that it is non-Line-of-Sight (nLOS) technology, but there are significant limitations placed on usage in the 900 MHz band in Australia.
Operation in the 918-926 MHz band is covered by an ACMA Class License - but this is VERY close to the frequencies used by mobile phone carriers. We have heard reports of very large fines being issued to companies with mis-configured or mis-calibrated radio eqipment that was impinging by only 1 MHz into a well-known carrier's mobile phone spectrum. At this stage - Freenet Antennas is not prepared to take the risk that one of our customers unintentially causes mobile phone interference.
In addition - in Australia the ACMA only allows operation in a narrow 8 MHz of spectrum (918 to 926 MHz). Compare that to Europe and USA where operation is permitted in 20 MHz of spectrum (902 to 928 MHz). Consequently, Ubiquiti gear in Australia would have to be set to a tiny 5 MHz channel width, seriously limiting TCP/IP throughput to 15 Mbps 1-way TCP/IP.
---
Our position above may change as we learn more.
---
Success of the Month
The Ubiquiti Picostation2HP Helps Australia Earn A Place in the Finals of an International Challenge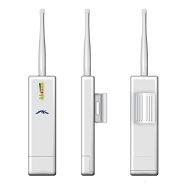 MAGIC, a project, is a joint initiative of Australia's Defence Science and Technology Organisation (DSTO) and the U.S. Department of Defense (DoD). The aim is to develop teams of robots which can operate autonomously on the battlefield in dangerous situations, keeping soldiers out of harm's way.
Australia is one of 6 International teams that progressed to the finals. Freenet Antennas helped as a sponsor for the successful WA team by supplying Ubiquiti Pico2HP units.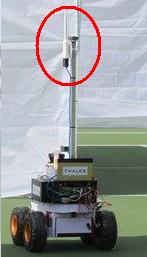 Successful team member Michael Fazio told Freenet Antennas:

Today we received confirmation of our team's selection to complete in the November finals of the MAGIC 2010 competition (http://www.dsto.defence.gov.au/news/6244/). As a result, we are now moving into our final stage of development which will require completion of our communications solution. The 4 PicoStation2HP devices that you provided our team with worked brilliantly during our June trials...
Thanks Rob
Michael
---
Tell us of Your Success


Do you have a WiFi success story you would like to share with other Freenet Antennas customers? If so email us the details and we might publish in our next newsletter.
---
Recommended Firmware

Each month we will update this table.
| | | |
| --- | --- | --- |
| Device | Recommended Firmware | Comments |
| UltraWAP-G V2 | V1.31 | |
| UltraWAP-N | Factory FW | |
| Ubiquiti a/b/g | V3.5.1 | Lock ACK to 20% more than actual distance |
| Ubiquiti "M" | V5.1.2 | Lock ACK to 20% more than actual distance |
| RouterStation(Pro) | OpenWRT Backfire 10.03 | Supports MIMO (SR71-12/15 radio cards) |
---