---
March 2013 Newsletter
News from Freenet Antennas
---
Recent Ubiquiti Webinar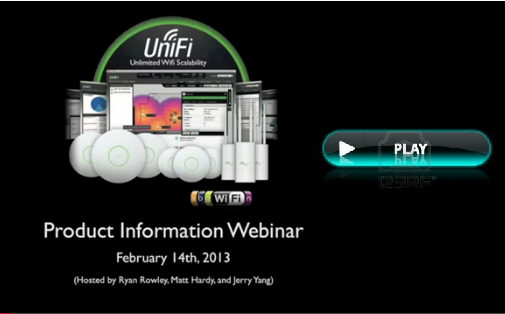 Live Date: 14-Feb: UniFi V3
Ubiquiti has announced V3 of the UniFi controller software. There are a number of very significant enhancements.
Multi-Site Management
You can now have ONE controller managing more than one UniFi network. So you can now manage multiple customer networks from one controller instance.
Seamless Roaming/Zero Handoff
Roaming performance has been improved. Ubiqiuiti has added AP-to-AP communication to manage the handoff of a roaming client device (Laptop, smart phone, ...) between APs. Significantly, this is done without requiring adding software/drivers to the client device. The client device is actually unaware when the switch happens; there is no disconnect/reconnect as far as the client device is concerned.
WLAN Groups
Better control over different classes of user within one organisation
Rogue AP Detection
Notification if someone adds an AP to the LAN with the same SSID as you are managing.
SNMP Support
MIB now exists for UniFi devices, so that other management platforms can query UniFi values.
Improved Load Balancing
Limit client connections based on signal level, and set max. client connections per AP.
Same Hardware
All of the above features will run on all existing UniFi hardware. It is just a software upgrade.
For more information, I urge you to watch the Youtube video.
---
| | |
| --- | --- |
| AirVision 2 Announced | |
Ubiquiti has announced the BETA testing has started for AirVison2. This is an exciting re-design and re-write of the AirVison system.
Some highlights are:
Works on existing Ubiquiti camera hardware. (No need to buy new cameras)
In-camera motion detection (Less network traffic, less controller CPU load)
10 times faster
Audio (microphone) support
H.264 video support
Android/Apple viewers (in development)
Optional NVR 'appliance' (in development). This Network Video Recorder in-a-box includes a 500 GB disk and will greatly simplify customer installations.

---
Win More Business
We now have in stock these 6-page, A4 folded brochures.
Promote Ubiquiti products in Australia to your customers
No price or vendor information.
Printed on 150 gsm gloss paper in full colour.

Make your bids/quotes more professional by attaching these brochures.
---
Upcoming Products
The products below have been announced. We will keep you updated via this newsletter as we learn more.
The following new products are expected in stock approx end of May.

1U Universal Rack System

Holds any two of the following:

Tough Switch Pro (8 port)

1U Rack System - ToughSwitch-8-Pro

Holds any two of the following:

Tough Switch Pro (8 port)

Wall Mount for TS-Pro

The Tough Switch Wall Mount will hold one Ubiquiti Tough Switches Pro 8 port.

Exterior Ethernet Cable Anchor
Exterior Ethernet Cable Clip

Cluster Mount - 6 Gang



Click image to enlarge

TOUGHSwitch - POE Switches

Ubiquiti has announced their range of POE switches.


Click image to enlarge

EdgeRouter-Lite

This is the first product announced in the EdgeMAX Router series. Ubiquiti has given us a ship date that means we should have these in stock by the end of April.

The world's lowest price, one million packet-per-second router. Powered by the feature rich EdgeOS featuring a next-generation graphical user interface.

---

Outstanding Performance and Value


Click image to enlarge

See these reports:

Features

| | |
| --- | --- |
| Performance | (Layer-3 base forwarding) 1,000,000 pps for 64-byte packets. Line rate (3 Gbps) across all three ports for 512-byte packets and higher |
| CPU | Dual-core MIPS64 processor with hardware acceleration for packet processing and encryption/decryption |
| Ethernet | 3 RJ-45 Gigabit Ethernet ports |
| Memory | 512 MB DDR2 RAM |
| Storage | 2 GB |
| Console | 1 RJ-45 serial console port |


Click image to enlarge

Mid-Gain 5GHz Titanium Sector Antenna

Ubiquiti has announced a smaller cousin to the variable-gain/variable-beam-width 5GHz Sector Antenna.

| | | | | | |
| --- | --- | --- | --- | --- | --- |
| Antenna | Gain(dBi) | Beamwidth (Deg) | Height (cm) | Available | Price |
| AM-V5G-Ti | 19 to 21 | 60 to 120 | 721 | Now | $354 |
| AM-M-V5G-Ti | 15 to 17 | 60 to 120 | 385 | April | ??? |
---
New Products
The products are now in stock.

Click image to enlarge

airGridM

airGrid M provides incredible price/performance for airMAX Customer Premises Equipment (CPE) applications, or just Point-to-Point applications.

These are functionally the same as a Ubiquiti BulletM2/BulletM5, matched with a grid reflector. As such they are SISO (Single channel) units, and run slower than the MIMO (Dual Channel) cousins (e.g. NanoStationM, RocketM, ...)

More...

airGridM Point-to-Point Links

You can buy complete PtP links based on the AirGrids; both 2.4 and 5 GHz.

These kits come with:

2 x AirGids (antennas/radios/POE injectors/AC Cables),
2 x 20m grounded, outdoor rated POE cables,
Pre-configuration, and
Testing

You just install.

More ...

Console Cable for EdgeRouter

The EdgeRouter has a cisco-compatible serial port (DB9 to RJ45). We have them in stock.
---
Ubiquiti Training - airMAX


Upcoming scheduled courses:
---
CeBit - Sydney - 2013 May 28-20
Come see the Ubiquiti stand at CeBit 2013.
For a Free Exhibition Ticket (valid for all 3 days), Register Now.
---
Tell us of Your Success
| | |
| --- | --- |
| | Do you have a WiFi success story you would like to share with other Freenet Antennas customers? If so email us the details and we might publish in our next newsletter. |
---
Recommended Firmware

Each month we will update this table.
---