---
May 2014 Newsletter
News from Freenet Antennas
---
The New UniFi Camera Range


Ubiquiti has released a new Camera range.
The new cameras feature:
InfraRed (IR) Night vision
Higher resolution
Simple setup and management
We should have stock of the UVC and UVC-PRO in about 1 month.
---
New NanoBeam Range
The new NanoBeam range from Ubiquiti is basically a refresh/update of the familar NanoStation/NanoBridge range. They still operate on 24V POE, but have faster CPUs (560 vs 400 MHz), and some models now include GbE (1000 Mbps) ethernet interfaces. The NanoStation replacements now include a mount that has Elevation adjustment.
When will NanoStations/NanoBridges be obsolete?
NanoBridge units are now End-of-Life (EOL) and can no longer be ordered from the factory.

NanoStation units: Short answer: We don't know. We have heard nothing from Ubiquiti on if/when the existing product line of NanoStation will be End-Of-Life (EOL).
Screw Mounting - Option
Here is a cute way of mounting the NBE-M5-19 on wood. Courtesy of Ray Taylor in NZ.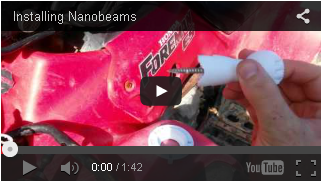 ---
New Products - In Stock Now

1U Universal Rack System - POE

The Universal 1U Rack System-POE will hold any two Ubiquiti Tough Switches (5 or 8 port), or the Ubiquiti EdgeMAX Lite, or EdgeMAX POE router in a convenient 19" 1U Rack system.

Holds any of the following combinations:

EdgeMAX Lite-3 Router and Tough Switch-5-POE

EdgeMAX Lite-3 Router and Tough Switch-8-PRO

EdgeMAX POE-5 Router and Tough Switch-5-POE

EdgeMAX POE-5 Router and Tough Switch-8-PRO

Tough Switch-5-POE and Tough Switch-8-PRO

Tough Switch-8-PRO and Tough Switch-8-PRO

Features hold points for the power bricks for the Tough Switch 5-POE and EdgeMAX routers and power cord tie down slots for the Tough Switch Pro.

Cable Zip Tie, 300mm, Stainless Steel

If you want to mount Ubiquiti products with a sturdier Zip Tie than the ones shipped from these are great.

Cheap, made from Stainless Steel, and incredibly strong.

EdgeRouter-8-Pro

The 8-port version of the popular EdgeRouter-Lite-3 is a very powerful rack-mount model, with support for SFP (Fiber connectivity)

| | |
| --- | --- |
| Performance | (Layer-3 base forwarding) 2,000,000 pps for 64-byte packets. Line rate (8 Gbps) for 512-byte packets and higher |
| CPU | Dual-core MIPS64 processor with hardware acceleration for packet processing and encryption/decryption |
| Ethernet | 6 RJ-45 Gigabit Ethernet ports, plus 2 x combo Gigabit/SFP ports. (SFP ports allow connectivity to fiber interfaces) |
| Console | 1 RJ-45 serial console port. (Suitable cable. Not included) |

RocketM5-GPS

This is not a 'new' product, but they have been out of stock for a long time, and we now have some back in stock for you.

Rocket Dish 31 dBi AC

5 GHz, 2 x 2 MIMO Point-to-Point Dish Antenna

This antenna is designed to work with the Ubiquiti 5GHz RocketM5 range of products to create powerful 2 x 2 (MIMO) Point-to-Point (PtP) or Point-to-Multipoint(PtMP)links.

It has a new design, improved shielding, and performance as required by the future airMAX-AC series of products. But can be used today with the existing 5 GHz Rocket radios.

The radios that can be used with this product include:

RocketM5-AC (Future product)

Gigabit POE

As more and more Ubiquiti products are starting to add Gigabit Ethernet (GbE), we are adding to our POE product range to support GbE POE.

We have this product in stock

Ubiquiti 24V x 0.5A = 12W Gigabit injector
---
Upcoming Products
The products below have been announced. We will keep you updated via this newsletter as we learn more.
Gigabit POE

As more and more Ubiquiti products are starting to add Gigabit Ethernet (GbE), we are adding to our POE product range to support GbE POE.

We have some Passive POE injectors coming. In addition, they provide a ground path between the RJ45 shells.
More ...

14-to-24V and 14-to-48V DC POE Converters. Great for solar/wind/UPS installations.
More...


airFiber-5 5 GHz model

WARNING:
As shipped by Ubiquiti at the moment, these units are not legal for sale in Australia by anyone. The problem is with the software. We are working closely with Ubiquiti to get a fix. Meanwhile, we have them in stock, but are not allowed to sell them.

From www.ubnt.com:

Operating in the 5GHz band, airFiber 5 builds on the innovations in airFiber 24 to enable speeds up to 1Gbps and introduces new eXtended Range Technology (xRT) to provide 100+Km maximum range.

Solar/Wind Battery Controller with POE

These very versatile units combine all the elements needed for solar/wind powered installations of Ubiquiti devices.

Solar/Wind charge controller. You provide the 12V battery
Regulated POE output.
LAN input
and more ...

We should have stock in June.
---
UniFi V3 - Status Update
UniFi V3 adds a lot of new features, and has spent a long time in Beta Testing. It is now at Release Candate (RC) status for beta testers.
Here is an extract from the release notes:
UniFi 3.1.10 is a Release Candidate.
NOTE:
We do not recommend running this in a production environment. Make sure you do a backup, especially if you plan to upgrade your existing installation.
If you have started any UniFi beta forum comments or other UniFi forum comments, please use this version to test against those comments and see if it resolves the issue, if so, please help close it with a solution.
If it does not resolve your forum comments, please state "Issue not resolved with 3.1.10", this will help us filter and focus on issues that are not resolved in 3.1.10.
If you are requesting a feature add, please make the request at the Feature Requests/Suggestion forum at http://community.ubnt.com/t5/UniFi-Feature-Requests/idb-p/UniFi_Ideas
Release Note
Starting from V3, UniFi controller will honor "Automatic Firmware Upgrade" settings. APs with incompatible versions will show up as "Connected (needs upgrade)" where no provision will be performed
A new wireless uplink is introduced, you would need to upgrade the isolated/downlink AP first.
See footnote 2 and 3 for voucher / portal customization
See footnote 4 for API changes
See v2->v3 Migration FAQ for more information.
New Features Introduced in V3
Multi-site management, read-only admin support
Instead of running multiple controllers, now you can use one controller to manage multiple sites.
Each site has its own configurations, maps, statistics, guest portals and is logically separated.
Moreover, you can delegate administrative rights (readonly/readwrite) to other people.
Seamless Roaming - Zero-Handoff
Running radios on the same channel with the same BSSID. No controller is required for its operation.
WLAN Groups
Now you can create multiple WLAN groups and assign them to an AP's radio.
Other Features
Rogue AP detection
more descriptive email alerts
basic SNMP support
enhanced load balanding per radio
voucher customization
additional payment gateway support (Stripe, QuickPay, Authorized.Net, MerchantWarrior)
ability to reset current statistic
allow the config to stay during uninstall for Windows
controller performance enhancement
Insights tab: Past Wireless Connections, Past Guest Authorizations
standard-based roaming support (PMK-Caching, Inter-AP commmunication)
Access Points tab: Config view, Performance view (footnote 1)
enhanced wireless uplink
UAP-Pro wireless uplink support (UAP-Pro can use its 5G as uplink or take 8 wireless downlinks)
Known Limitations
UAP-AC - Rogue AP detection will only search for rogue AP on first power up. It will not continuously update rogue AP list during runtime.
Zero Handoff not supported on UAP-AC yet. Currently in development.
Wireless Uplink not supported on UAP-AC yet. Currently in development.
---
Ubiquiti Training - airMAX and UniFi

We now have both airMAX (airOS), and UniFi training courses available. The courses are each 2-days, and are booked separately. But in most cases, we will schedule them back-to-back so students can attend both in a 4-day stretch.
Upcoming scheduled courses:
See the Full Calendar.
---
Tell us of Your Success
| | |
| --- | --- |
| | Do you have a WiFi success story you would like to share with other Freenet Antennas customers? If so email us the details and we might publish in our next newsletter. |
.
---
Hints
48V Power for the Ubiquiti ERPOE-5
The EdgeRouter-POE (ERPOE-5) is a DC powered, 5 port Gigabit device that can be configured as a mix of Router and LAN switch. It also supports 24 and 48V POE outputs on all LAN Ethernet ports. As an all-in-one box, it does a lot.
The POE-out capabilities are:
Powered With
POE Out options per port
Comment
24VDC
0, 24V
<-- as shipped from the factory
48VDC
0, 24, 48V
<-- Ubiquit recommends to supply your own 48V DC supply.
<-- We recommend using kit below.
We have put together a 48V DC Power option for you that utilises the Ubiquiti airFibre power injector!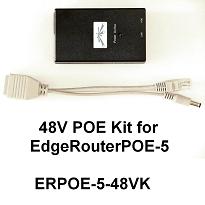 ---
Recommended Firmware

Each month we will update this table.
| | | |
| --- | --- | --- |
| Device | Recommended Firmware | Comments |
| UltraWAP-G V2 | | |
| UltraWAP-N | Factory FW | |
| Ubiquiti a/b/g | | |
| Ubiquiti "M" | | |
| RouterStation(Pro) | | Supports MIMO (SR71-12/15 radio cards) |
| UniFi Controller | | V3 Beta available |
| airVision | | |
| airCam | | |
---