---
Mar 2015 Newsletter
News from Freenet Antennas
---
| | |
| --- | --- |
| | Slant-45 Antennas |
What is Slant-45?
Dual-polarity long-distance radios, have twice the data speed of single polarity radio systems. Until now, all Ubiquiti dual-polarity products have used Horizontal & Vertical (H/V) polarities.
A slant-45 antenna uses polarities offset +45 degrees and -45 (+135) degrees from the H/V axes.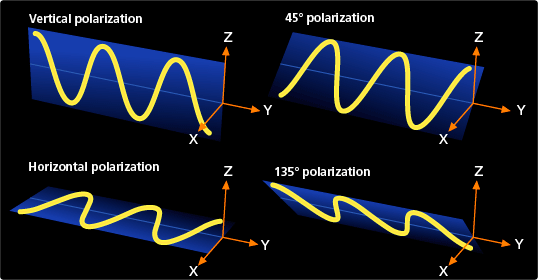 Why?
Signals from a pure sine wave transmitter with H and V polarities would bleed 50% into each of the slant-45 receiver antennas. In other words - a slant-45 receiver would see 100% of an H/V transmitted signal.
But ... Ubiquiti Products don't transmit pure sine waves! They encode the digital data into amplitude and phase variations of the radio signals. In fact it is highly unlikely at any instant in time that the two transmitted signal would be in phase. This means a slant-45 receiver will generally NOT see 100% of an H/V transmited signal.
In other words - a slant-45 antenna will have improved (but not perfect) isolation from H/V phase-varying signals.
Because of this, Ubiquiti now recommends:
Client distribution systems run on H/V polarities, and
Backhauls run on slant-45 polarities.
New Slant-45 Antennas
Ubiquiti will soon be shipping some new slant-45 antennas - known as airFiber-X antennas. These can be used with any 5 GHz Rocket as well as the newer AF-5X.
In addition, they will also be shipping a mechanical adapter that converts the RD-5G30/RG-5G34 Rocket Dishes to slant-45.
We have these slant-45 products on order and they should be in stock in 2 months.
---
Online Training

In a world's first, Online training (developed in Australia) is now available for the Ubiquiti products shown.
You benefit in a number of ways:
Cheaper - than attending a formal 2-day course in a classroom environment.
Faster - no need to wait until the next classroom course is scheduled nearby.
More convenient - the self-paced courses can be scheduled around other demanding work.
More practical - the Ubiquiti classroom courses are great for students needing to delve deep into theory such as Radio Waves, Antenna design, TDMA protocols, Link-Budgets, UniFi-WiFi site surveys, etc. But in many cases, students just want to know how to setup some very common scenarios. These Installer courses are targeted with less theory and more practice.
The way each course works is ... each student:
signs up and receives by email a set of detailed course notes. These can be kept as a reference document for use later on-the-job.
is allocated real test hardware for 7 days. This is hardware the student gets to configure (over the Internet).
passes an online quiz for each module. When all module quizes have been passed, the student gets emailed a Certifcate of Completion.
---
Classroom Training
airMAX and UniFi

We have both airMAX (airOS), and UniFi training courses available. The courses are each 2-days, and are booked separately. But in most cases, we will schedule them back-to-back so students can attend both in a 4-day stretch.
Upcoming scheduled courses:
See the Full Calendar.
---
New Products - In Stock Now
| | |
| --- | --- |
| | airMAX 5AC products |
---
Upcoming Products
The products below have been announced. We will keep you updated via this newsletter as we learn more.
Lightweight 30 dBi Rocket Dish

Basically similar to the workhorse RD-5G30 - but lighter and cheaper.

ISO-BEAM-620


Ubiquiti's first shield kit!

Designed for the newer 620mm dishes.
---
Tell us of Your Success
| | |
| --- | --- |
| | Do you have a WiFi success story you would like to share with other Freenet Antennas customers? If so email us the details and we might publish in our next newsletter. |
This is a success story of a new PowerBeam-5AC-500 link - over water. It is not clear which country this is in, but due to ACMA regulations in Australia, we may not be able to use as much transmit power in Australia .. but the story is impressive as it demonstrated the product is capable of this distance.
---