---
January 2013 Newsletter
News from Freenet Antennas
---
| | |
| --- | --- |
| | GPS Tracker |
If you need to record vehicle location over time, have a look at the GPS Tracker.
This product is based on theUbiquiti RocketM5-GPS, which has:
GPS receiver
WiFi and LAN capability
Flexible DC power needs (12 to 24 V DC)
Linux operating system
We have added some extra software to a standard RocketM5-GPS, so that it can now record location data in GPX format. As GPX is a widely used format, there are many programs that can read and display GPX location data. The image below was created by this freeware from data recorded by a GPS Tracker.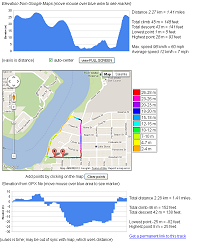 Click image to enlarge
---
Upcoming Products
The products below have been announced. We will keep you updated via this newsletter as we learn more.

Click image to enlarge

TOUGHSwitch - POE Switches

Ubiquiti has announced their range of POE switches.


Click image to enlarge

EdgeRouter-Lite

This is the first product announced in the EdgeMAX Router series. We expect to have it in stock in Q1/2013. Ubiquiti do not have a confirmed ship date.

The world's lowest price, one million packet-per-second router. Powered by the feature rich EdgeOS featuring a next-generation graphical user interface.

---

Outstanding Performance and Value


Click image to enlarge

See these reports:

Features

| | |
| --- | --- |
| Performance | (Layer-3 base forwarding) 1,000,000 pps for 64-byte packets. Line rate (3 Gbps) across all three ports for 512-byte packets and higher |
| CPU | Dual-core MIPS64 processor with hardware acceleration for packet processing and encryption/decryption |
| Ethernet | 3 RJ-45 Gigabit Ethernet ports |
| Memory | 512 MB DDR2 RAM |
| Storage | 2 GB |
| Console | 1 RJ-45 serial console port |


Click image to enlarge

Mid-Gain 5GHz Titanium Sector Antenna

Ubiquiti has announced a smaller cousin to the variable-gain/variable-beam-width 5GHz Sector Antenna.

| | | | | | |
| --- | --- | --- | --- | --- | --- |
| Antenna | Gain(dBi) | Beamwidth (Deg) | Height (cm) | Available | Price |
| AM-V5G-Ti | 19 to 21 | 60 to 120 | 721 | Now | $354 |
| AM-M-V5G-Ti | 15 to 17 | 60 to 120 | 385 | March | ??? |
---
Ubiquiti Training - airMAX


Upcoming scheduled courses:
---
CeBit - Sydney - 2013 May 28-20
Come see the Ubiquiti stand at CeBit 2013.
For a Free Exhibition Ticket (valid for all 3 days), Register Now.
---
Ubiquiti Tech Tips
EdgeMAX User Guide released
While the EdgeMAX Routers are not here yet, Ubquiti has released the User Guide document.

EdgeRouter Lite User Guide
---
AirFiber-24
Ubiquiti has advised us as follows:
We found an issue in some airFiber PoE Adapters that could produce poor Ethernet performance or even cause permanent damage to the radio. Because of this we will send you new PoE Adapters with the issue fixed within next weeks. Please start collecting information about what customers bought airFiber24 from you, to be ready when the new PoE Adapters arrive.
Finally, in some cases new airFiber users don't have previous experience with 24GHz radios, and they don't know how important is aiming to achieve a reliable and high performance link. Please tell customers that they need two installers to install this product, one on each side and they must be intercommunicated. When the units are aligned and there's no obstruction or reflection, all signal strength bars should be balanced. In case they don't, wireless link could not work properly.
We have 100 of the AF-24 PoE adapters arriving mid. Jan-2013, and we are told they are the 'new' type. If you have purchased any AF-24 units from us, please contact us so we can ship you the replacements.
---
Are Titanium Rockets Faster?
See below from the Ubiquiti forum.
Quote:
thank you. will do. By the way, do you see an improvement in performance of Ti products compare to regular M ?
Yes, for PtP I see a lot more speed, because of the faster CPU and Gigabit ethernet ports I can get 140-170Mbps.

For PtMP, the higher CPU and more RAM "may" allow you to add more stations. If you have any loaded AP's with 70+, it may perform better. I changed one out on an AP that had 80 stations, and the CPU load dropped down to 50%, from about 70.
---
Tell us of Your Success
| | |
| --- | --- |
| | Do you have a WiFi success story you would like to share with other Freenet Antennas customers? If so email us the details and we might publish in our next newsletter. |
A customer sent us pictures of an installation at a mine site in Australia.
---
Recommended Firmware

Each month we will update this table.
---